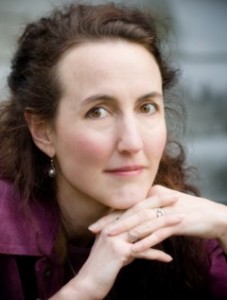 Xe Sands has more than a decade of experience bringing stories to life through narration and performance. From poignant young adult fiction to powerful first-person narrative, Sands' characterizations are rich and expressive and her narrations evocative and intimate. She recently won an AudioFile Earphone Award for her narration of The Sweet Relief of Missing Children by Sarah Braunstein.
Xe can be found on the web at:www.xesands.com
About Audio Books:
AA/JP: How did you get your start in audio books?
XS: Well, I did not come to narration and VO via traditional avenues of performing arts (theatre, film, radio, etc). I came to it through years of reading to my daughter, time spent connecting to the text and bringing it to life for her. Along the way, I developed a passion for and delight in narrating and character development and eventually realized that I wanted to pursue it professionally.
Of course, once I figured out that I wanted to do this, I wanted to do it RIGHT NOW. Luckily, it doesn't always work that way – and I do mean that. No matter how much raw talent you have, there are nuances to narration as with any performing art, nuances that benefit from practice and coaching. So, initially, I applied that drive to volunteer efforts through Librivox.org, a deeply rewarding and educational experience. A few years later, I was granted an artistic scholarship, which I used to attend one of Pat Fraley's phenomenal audiobook narration workshops. Shortly afterward, I began working with my coach, Carrington MacDuffie, and eventually attended the Audiobook Publishers Association Conference (APAC). APAC led to many wonderful connections with publishers and other narrators, one of whom introduced me to the lovely folks at Tantor Audio. And here I am!
AA/JP: What is your preparation for recording?
XS: Well, first I read the book through, making notes on pronunciation, characterization, accents, etc  and also trying out character voices and narration pacing. Next, I contact the publisher (or author, depending on the protocol) with questions on pronunciation or characterization (and seek out accent guidance, if necessary). If I have time, I let the book "sit" with me – let the story become part of my background while I focus on other things. When it's time to hit the studio, I go back to the rough character work and pacing I originally envisioned and determine what does/doesn't work. Then it's time to just hit record and go for it.
AA/JP: Do you have a favorite/s among the narrations that you've done up until this point?
XS: Hmm, that's difficult to answer as there are always pieces of each project that I really enjoy. It's a bit of a tie between The Sweet Relief of Missing Children and Three Days to Dead. I'll gush about Sweet Relief shortly. Three Days to Dead has, in addition to some hilarious lines, three scenes that simply turn you inside out when you read/hear them. After each of them, I had to take a break from the booth before continuing. And the first-person POV enhances the effect of such scenes.
AA/JP: Which title so far has been the most  demanding  for you?
XS: Well, each holds its own set of challenges of course…but The Sweet Relief of Missing Children wins. It has over 30 characters and by far the most challenging subject matter and emotional weight of the books I've narrated. The writing is simply gorgeous, which makes the emotional impact of the read even more brutal. I've read it several times, and with each read comes new connections to the characters, a different interpretation and a different take on how to present it. It was challenging to separate myself as a narrator from my experience as a reader, and to pick the appropriate approach for the audio. But it is exactly those challenges that make what I do so personally rewarding.
AA/JP:  Considering the subject matter of The Sweet Relief of Missing Children, and from a mother's viewpoint, was it a more difficult book to narrate?
XS: Excellent question! Yes, being a mother did add a dimension of emotional difficulty to the narration, but not in the way I expected. Usually, stories that feature abused, neglected children who have disappeared make me fear for my own child – you know, trigger that fierce protectiveness and hyper-fear we have about our children. But this book is in many ways about how people continually fail one another, especially in their role as parents. I found myself reflected in each of the parent characters in some fashion, some personal failing magnified and distorted. And as many of these characters are not particularly likable, it was uncomfortable to be able to relate to them. Braunstein's writing is so effective, it really had a way of slipping beneath my defenses. But that also meant that I could empathize with characters I might otherwise have shunned. In the end, it was an exceptional experience.
AA/JP:  Is there a review or award/nomination you've received that has made you feel the most gratified?
XS: Is it cheating to have two or three answers? No? Good! It was amazing to receive an Earphones Award for The Sweet Relief of Missing Children. I took many risks with the narration of that book, felt very connected to it and the narration, and faced several personal challenges in getting it done. To know that a reviewer experienced it as I intended is such a gift. However, sometimes, the most rewarding reviews come from the wonderful book blogger community of readers and listeners. One of the most rewarding reviews came from a blogger that I adore and respect, Jennifer Conner Dodde (Literate Housewife Reviews), for my narration of Fire and Ice, by Anne Stuart. That was the first review I ever received and I was tickled that she both listened to and shared her thoughts about it.
I've also recently received several pieces of author and listener feedback that simply blew me away, and that reinforced to me how precious it is when an author shares that I've done their work justice, or when a listener emails me with a description of how a particularly grueling or emotional scene moved them. I'd say that that level of personal feedback beats all the professional reviews almost any day, and I feel pretty blessed to receive it. Hey, when an author tells everyone publicly that you are "made of awesome sauce," or calls you a "bitchin goddess of the universe,"  (you both know who you are!), or a listener takes time to let you know that you have truly brought characters and scenes to life for them, it's pretty hard to beat.
AA/JP: As our interview has grown in permutations in the last few weeks, you recently garnered a new recognition that did not exist in our previous answer session and relates to the area of "listener feedback." In the recentSpeaking of Audiobooks' Favorite  Romance Audiobooks Poll you were voted "Favorite Debut Romance Narrator" for your work on Fire and Ice. That must have been a favorite personal high!
XS: I feel truly honored by the recognition, and humbled by it as well. The listeners in that community are not only voracious readers, but very passionate about their listening experience. The romance genre offers the challenge of performing fairly dramatic and intimate content in a natural and realistic way, and listeners of this genre often voice that they have high expectations for narrators in terms of authentic performance of male/female dialog. To hear from these listeners that I have hit that mark for them is exceptionally gratifying.
AA/JP:  As a voice artist as well as a narrator, what training was the most beneficial to you, and what would you recommend to someone trying to break into the voice and narration markets?
XS: Well, before someone seeks out any sort of training, I think they need to do a bit of navel-gazing, so to speak. For long-form narration in particular, it's imperative that you have a passion for it, as you will be spending very long days in the studio. If you find that rapidly absorbing books, then performing them as a one-person tour de force, then listening to yourself with a third ear truly fills you with a warm glow, then by all means, dive in!
Once you have committed to it, I recommend working with a narration coach privately and also participating in group training sessions. Group instruction lays a strong foundation for working with directors, receiving constructive feedback and finding your strengths. Private instruction takes you deeper into developing your skill set, working through your "tells", and broadening your sense of yourself as a narrator. Lastly, don't discount the informative discussions happening online on such sites as Audiobook Community, Voiceover Universe, LinkedIn, etc. Many established narrators contribute their vast experience to these discussions and you can learn a great deal from asking and listening.  Training is a career-long process.
AA/JP:  What titles are you working on right now?
XS: I've recently finished the third in the Dreg City series, Another Kind of Dead, by Kelly Meding for Tantor Audio. I've loved living in Evy Stone's voice these past months and already miss hearing her in my head. They have been an absolute joy to narrate…first-person, snarky, sarcastic-but-vulnerable supernatural bounty hunter, with trolls, gnomes, shape shifters, vampires, gargoyles…coupled with a heavy emotional content. And it has been my privilege to work with Kelly Meding to bring this to life in audio.
Currently, I'm in the middle of narrating the six-book Nightwalkers series, by Jacquelyn Frank (also for Tantor), gearing up for the simultaneous release of the long awaited sixth in that series, Adam. This has been such a wonderful challenge, featuring accent and character work that has stretched me in many ways. And working with Jacquelyn Frank has been amazing.
On other fronts, I've just wrapped on The Digital Divide, by Mark Bauerlein, a dual-narration with Peter Berkrot for Tantor Audio, and recently completed my first Poisoned Pen Press title for Blackstone Audio.  And I'll soon start recording Self-Compassion: Stop Beating Yourself Up and Leave Insecurity Behind by Kristin Neff, Ph.D., for HarperCollins Audio. After that, who knows? Take a breath maybe? Right, like anyone believes that.  I do have a favorite author whose third book is just about to be published and I have been trying to get her work into audio…would be a dream to narrate her work.
AA/JP: Care to spill the author's name? Maybe we can gently convince her to join the audiobook ranks?
XS: Why not? Kristina Riggle is one of my favorite authors. Her stories are messy and poignant and humorous and realistic and hard. I love it. She meshes first-person POV with third-person narration and the result is so affecting. I have begun pestering several audio publishers because I believe her work would be exceptional in audio. If you'll indulge me in a quote from REAL LIFE & LIARS:
"We all have the best laid plans for our children, and they go and ruin it all by growing up any way they want to. What the hell was it all for, then?"
To know that I helped get her work into audio would be wonderful. To also narrate it would thrill me beyond words, and would be an exceptional privilege.
About Production and Promotion:
AA/JP: Having recorded in a professional studio with a director, how do you feel it compares to using your own studio and having to self-direct?
XS: The thing about recording in a professional studio with a director present is that you just get to be "you." Just the "voice" doing what you need to do…really living in the narration and characterizations. You have someone else doing all the engineering, and another person listening to make sure you are really hitting it. You have someone else there to give their honest feedback on whether or not you are coming across the way you think you are…whether the pacing matches the content, whether the characterizations are on target or jarring or too subtle, etc. All of that makes working in an external studio with a director wonderful.
That said, working in your own studio has distinct advantages. First, you can play around with your characterizations, pacing, etc. without wasting anyone else's time or feeling self-conscious. You can make your choices and then come back to them later (time permitting) and listen with a different ear, so to speak. And, I don't think you can really overestimate the value of being able to set a schedule that works for you, your voice, your life. That is a huge relief, being able to work whenever you need/want to during the day/night.
AA/JP: Do you have a preference for one method over the other?
XS: Hmm, there are advantages to each, and they are such different experiences. I love the freedom that working solo in my studio gives me on all levels. However, you can't beat external direction in terms of knowing that you are/are not hitting your mark with the narration. I think that in a perfect world, narrators would always be allowed to focus solely on the narration, with engineering support and direction provided by others.
AA/JP:  Do you think one particular method offers a better over-all effect on inspiration, e.g. as you've mentioned, the self-consciousness factor?
XS: Well, I think this depends entirely on the narrator's personality. For me, it's far easier to play around as needed when it's just me in the booth. So on the question of inspiration, better for me to be solo. However, I completely understand the value of external direction, so (for projects that lend themselves to it) I have developed a combined approach of recording samples of characters/narration, passing it to my director/coach, and then discussing it in depth and playing around from that point.
AA/JP:  What do you think are the technical challenges to a home studio for narrators?
XS: Oh my…that is a HUGE question! I say that because I remember vividly the challenges I faced in setting up my home studio and learning to use my current studio rig. The challenges really are two-fold: getting the thing set up, and then using it effectively and efficiently to produce professional level audio.
If someone intends to work solo in a home studio, they will need to learn how to set one up and use it effectively, which will include everything from location and equipment selection to digital audio workstations. If a new narrator has no background in audio production, this can be a STEEP learning curve, but it is possible! If there is a community college nearby, check to see if they offer basic audio editing/production classes. Online, there are numerous resources specifically for narrators, including the invaluable Blackstone Pro Tools Guide (available to APA members). Regardless of how someone approaches this bit, it will need consideration, so be prepared to spend quite a bit of time learning how to self-produce. It will also likely take a significant financial commitment, so be aware of that and do your research.
The technical challenges really boil down to this: most of us are not audio engineers.  As a home narrator, you need to not only master your narration craft, but also learn to act as your own sound engineer. On the not-so-sexy side is audio production. Depending on the publisher you are working for, you may also need to learn how to do some light post-production on your files as well. It's akin to starring in a one-actor play, while simultaneously manning the lights, the curtains and set changes. It's very challenging, but it does get easier with practice.  I find the biggest technical challenges are those that come when I'm trying to troubleshoot an issue with sound quality or equipment. Fortunately, many publishers work with narrators on such issues as they arise, troubleshooting together. And before starting a project with a new publisher client, it is crucial that you work with that publisher to tweak your studio set-up to meet their requirements.
AA/JP:  You've become so adept at using social media to "get the word out there" for others (generously) as well as yourself. How important do you feel Twitter and Facebook are, in the big scheme of PR, and how would you advise other narrators to best take advantage of it?
XS: Well thank you! Not sure you should call me adept, but I do try to engage listeners and readers and publishers in interesting ways and venues. For me personally, Twitter and Facebook have been instrumental in connecting with all sides of the narration equation: authors, listeners and publishers. But what is important isn't the particular social medium – it's the connection. However a narrator can connect with listeners, with reviewers, with publishers, with authors and with other narrators, they should. The key is that whatever social media narrators use to connect, they use it in an authentic and broad manner.
Authentic: be yourself. Don't try to be something/someone you're not just to "network."
Broad: really engage in whatever medium you choose and broaden your interests.
Remember that these are relationships you are building and treat those you interact with the way you want to be treated – which means that while you can and should share your triumphs, you should also be engaging others in discussions that interest THEM. No one wants to hang with the guy at the party that only talks about himself and his cool new project, right? Yeah, so don't be that guy.  Find folks with common interests (not just audiobooks!). Be real. Build relationships. Listen.  Truly CONNECT.
Now, a word about getting the word out about others…as I've told a couple folks recently, I truly believe that when one of us is elevated, we all rise together. I mean, we all have beauty within us…and I find great joy in calling attention to the beauty of others, (especially if I think it is being missed by many). You know, the daily dance we do for new projects (a must for the self-employed) can be exhausting and demoralizing. By necessity, we have to focus quite a bit on ourselves, which I think sometimes creates a bit of professional "tunnel vision." Why not turn some of that intent and energy outward, toward others, toward the industry in general? The results may very well surprise you.
About You:
AA/JP: Tell us a little about your  other passion, your role as visual artist.
XS: Ah, "her." Well, the visual artist is really the tormented side of my artistic self.  It tends to come in waves and doesn't subside until I feed it with some feverish undertaking. Primarily, I work with digital photomanipulation, sometimes incorporating mixed media. Occasionally, I am drawn toward the feel of acrylic on canvas – those tend to be rare and rather positive pieces. However the muse that inspires such periods of artistic expression is a fickle and unpredictable one. I can't really seek her out…she always finds me on her own time. I've tried just sitting down to "do" a piece…the result was complete dreck, LOL! So I've learned to be patient and just appreciate the mood when it strikes.
AA/JP:  When this erratic muse strikes,  what is your favorite medium and why?
XS: Paint. Definitely. I'm not skilled with it and I certainly can never seem to paint what I set out to, but I just love the feel of it, the visceral experience of painting, first with brushes, then with hands. It's a bit of a transcendent experience for me, actually.
AA/JP:  Do you consider yourself first a voice artist and narrator or a visual artist? Do the roles mesh together, or is there sometimes chaos in the creative kingdom?
XS: Oooh, that's a difficult question! I'm of two minds about my art and its expression…
Because the visual art comes from a deeply held and private place, it necessarily forms the foundation of all else – and by that I mean the foundation of my life, my self, my relationships. Even if I never do another piece, it will still always remain the very core of who I am.  So from that perspective, the visual artist comes first. The narration and voice artistry draws on that foundation, on that deep well of emotion and essence. There is no way that I could move through a text, especially an emotionally challenging one, without drawing on that source.
But that is on the personal, the private level. In bringing that up to the community and professional level, I consider myself a voice artist and narrator who flirts with visual expression.
AA/JP: Does your visual art have an effect on how you approach your narration?
XS: Yes. It reminds me that when I truly open myself to that inner source and get out of my own way, I can bring beauty into the world.
AA/JP:  Anything else you'd like to share on your work or your life? Projects?
XS: I've blathered on quite a lot already!  Oh alright…one last quirky tidit: I have ferrets. 'Nough said.
AA/JP: Ferrets? Really? Nooo, not nearly 'nough said… How many, why, how did that come about, and having known a few ferrets myself, including the actual four legged mammalian type, I know they can be disarmingly cute. Are they?
XS: Not going to let that just go, huh? Thing is, I always swore I would never share my life with ferrets because they had always struck me as weird and, um, aromatic. Well, didn't work out that way J  My daughter and husband began a campaign for ferrets several years back, and eventually, we began to visit the local ferret rescue. Within minutes of confirming with them both that I would under no circumstances be responsible for these creatures, I had "Bear" in my arms, had fallen in love and agreed to adopt three (3!). Fair enough to say that I have only fallen in love faster once in my life.
And to answer your question, yes, they are disarmingly cute, largely because they are innocent and hilarious little souls. They seem to exist purely for the thrill of play and exploration and have brought immense joy and solace to everyone in my house (excepting our cats). Only down side is that they are short-lived and extremely prone to both human and other mammalian diseases. We lost two of our original brood to cancer within the first year.
AA/JP:  Do you have a life philosophy you'd like to pass on?
XS: Yes. To quote a dear friend and mentor, at any given moment, we are each of us doing the very best that we can.
Just for the Hell of it:
AA/JP: How do deer know to cross at that yellow road sign?

XS: The real question is: how did we know just where the deer would want them?
AA/JP: And that, is the delightful and disarming Xe Sands. Thanks Xe for sharing some of your insight, grace and humor with us, and to all you listeners out there, if you haven't picked up an Xe Sands narration yet…Why not?