Abbreviated Audio Presents: Pick-Off Play by Troy Soos, Narrated by Johnny Heller

Available only at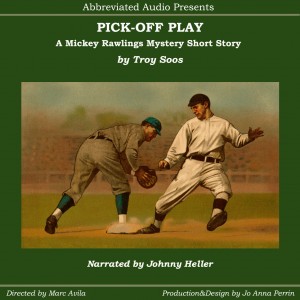 Downpour.com
Part of  The Mickey Rawlings Baseball Series.
"Pick-Off Play" is a Mickey Rawlings historical baseball mystery short story set in the Texas League during the 1913 season. 
Proceeds from the purchase of this audiobook will be donated to the ALS Association Golden West Chapter.
The ALS Association has committed millions of dollars to find effective treatments and, hopefully one day, a cure for Amyotrophic Lateral Sclerosis or as it is better known, Lou Gehrig's Disease. Their  global research effort to educate the public and eradicate this disease has helped increase the number of scientists working on ALS, and helped to advance new and often groundbreaking discoveries and treatments. Please consider donating to this great cause.
Right now, for the small price of $3.99 you can give a donation, and download an audiobook as a thank you. It's a win-win. You can feed your soul, your ears, and your imagination.

Our thanks for the generosity of all involved in this project,  but especially to Troy Soos, Marc Avila, and the patronage of Downpour.com in this endeavor.