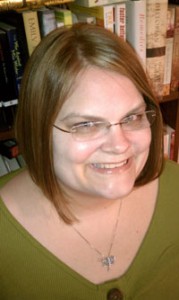 Jennifer Conner has had her nose in a book for as long as she can remember. In an attempt to redefine her identity after motherhood, she began blogging at The Literate Housewife Review in January 2007. It was a difficult bedtime routine with her daughters that first prompted her to pursue audiobooks. After listening to Simon Vance narrate The Girl with the Dragon Tattoo, she discovered that she is a true audiobook geek at heart.  Imported from Michigan, she currently lives in Southwest Virginia with her family.
In addition to her blog, you can find Jennifer on Twitter as @lithousewife.
So Cold the River
Written by Michael Koryta, Narrated by Robert Petkoff
– An Audiobook Review –

Review by Jennifer Conner

So Cold the River is a psychological mystery involving Eric Shaw a once successful Hollywood cinematographer reduced to making memorial videos in Chicago after permanently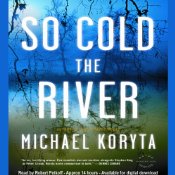 burning his bridges. Eric has an innate ability to know when things fit together and it is when he decides to make an addition to a memorial video based on that hunch, that he catches the attention of Alyssa Bradford. She's the daughter-in-law of Campbell Bradford, a wealthy elderly man who has always been secretive about his formative years in Indiana.  She hires Eric to go to the French Lick/West Baden area to make a film involving what he learns about Campbell's roots. Before he leaves, she gives him a bottle of Pluto water, the only souvenir Campbell has kept from his childhood.  While in Indiana, Shaw stays at the posh West Baden hotel where it doesn't take long before strange things happen and Eric becomes aware that nothing is what it seems.
My favorite character in So Cold the River was Anne, a spry old woman who knew more about the history of West Baden and the hotels than anyone else in town. She kept herself active and healthy, but didn't give up her daily cocktail. She was also a weather specialist. She impressed me in so many ways. She lived at home alone despite her age and the tragedies she's experienced in life. I was impressed at how active a role she played in the story. Anne is no token elderly person sitting on the porch spewing words of wisdom. Without her, Shaw would have been lost. He most certainly wouldn't have been able to puzzle through the trip-like effects he has when drinking from the old bottles of Pluto water Anne gave him from her basement. When I get to be that age, I hope to be like Anne.
I enjoyed the twists and turns of Eric's story, but the audiobook production got in the way of me being completely engrossed. Shortly after Shaw arrives in West Baden after drinking the old Pluto water he hallucinates a train speeding toward him carrying a mysterious man wearing a bowler hat. It throws Shaw for a loop and undoubtedly it is an intense and surreal scene in print.  Unfortunately, sound effects for a train and a violin were added behind the narrator's voice. Instead of focusing on what was happening to Eric in the dark, I started looking around outside my car for an actual train. Over the course of the book I learned to anticipate the sound effects, but I never liked it. It was irritating and gave the impression that the narrator alone with the text wasn't enough to pack a powerful punch. I disagree. I wish I could have listened to this novel with Petkoff's voice alone.
Robert Petkoff is a talented narrator. His general speaking voice is expressive, and full of inflection. I liked his performance from the beginning. I was especially impressed with his voices for Campbell and Josiah Bradford, Campbell's only living relative in the West Baden area. The strength in those  voices and the way they mixed and morphed as the story moved along gave the story the most chill factor. If there was any exception, it was with the voice for Danny, Josiah's friend. While he may have lived in the country his entire life, Danny grew up in the Midwest. Giving him a hick Southern  accent didn't work as well for me as the rest of Petkoff's voices.
Micheal Koryta is a compelling writer. The story is original and the characters are engaging. More than wanting to know what happened, I needed to know what happened.
However, this is the first time that I have found the audiobook to diminish a reading experience. I can only imagine what this book  might have been like in print – or with Robert Petkoff narrating without the interference of sound effects.